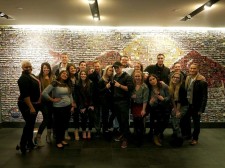 The team from Morph Management Group, Inc. recently traveled together to New Jersey to attend a powerful conference focused on personal and professional development. The trip was one of many travel perks this firm's people enjoy.
Little Rock, AR, January 5, 2018 (Newswire.com) - "We all love to travel," said LaToya, Morph Management Group, Inc.'s President. "Not only do we become closer on these adventures, but we learn so much."
LaToya shared that the conference theme, "Take Ownership," was apt for the Morph Management Group, Inc. culture. "This event was centered on how we can improve both our businesses and ourselves," she explained. "We were able to spend time in self-reflection about our own lives as well as how we can grow our company."
As LaToya explained, the conference provided the team with opportunities to recognize their own career objectives and paths. "It is important to realize that we are in control of everything," she said. "Our actions reflect our personal lives as well as professional lives. Therefore, we need to be consistent in ensuring that everything we do is in alignment with our values."
"We discussed the necessity to have strong goals that we can work toward," LaToya continued. "There were so many techniques presented that can aid us in our professional and personal endeavors. We returned motivated to put the lessons we learned in place in our office and in our lives."
Morph Management Group, Inc. Goals for 2018 Center on Career Growth for Team
As LaToya shared, 2018 will be a year in which a heavy emphasis is placed on developing and advancing team members in the Morph Management Group, Inc. office. "We are committed to giving people opportunities to grow their careers at a pace that is good for them," she said. "Our progressive promotions program is based on merit, not seniority. Therefore, anyone who wants to work hard and show dedication to our firm's vision can grow with us."
One of the reasons LaToya is confident that team members can realize their career ambitions with the firm is the ongoing learning environment. "We provide our promotional specialists with the tools and resources they need to achieve their goals and become excellent businesspeople," she said. "From coaching and guidance to hands-on learning, we set them up for success every day. It's why we are able to grow."
"I look forward to 2018 and the possibilities in store for our team and the firm," LaToya concluded. "This year was good, and I anticipate next year will be even better."
About Morph Management Group Inc.
Morph Management Group Inc is a full-service marketing firm that offers exciting event-based promotions. The team uses unique channels of outreach to quickly spread brand messages people want to hear. Their innovative approach allows associates to build bonds with consumers that ensure their lasting loyalty. Through collaboration, they guide brands into new markets. The firm continues to use a flexible, professional approach that has allowed them to build a long list of returning businesses. To discover more about these services for both small start-ups and Fortune 500 companies, go to morphmanagementgroupinc.com today.
Source: Morph Management Group Inc.
Share: